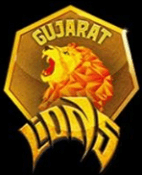 IPL 10 Gujarat Lions tickets booking details will be placed here. The Rajkot based team makes its second appearance in IPL 10 alongside Rising Pune Supergiants – who have replaced Chennai Super Kings and Rajasthan Royals following their suspension from IPL for two seasons for match fixing by their owners. Buy ipl Gujarat Lions online tickets from TicketGenie. You can also buy IPL tickets in Rajkot at retail outlets such as Poojara Telecom Pvt Ltd located in Sardarnagar Main Rd, Rajkot and all of the below from 10:30 AM to 01:30 PM and 3:00 PM to 8:00 PM. Rajkot cricket stadium tickets booking available from 10 AM to 7 PM.
Gujarat Lions
Owner: Keshav Bansal (Intex Technologies)
CEO –
DIRECTOR-
Head coach: Brad Hodge
Bowling coach: Heath Streak
Fielding Coach – Mark Boucher
Batting advisor – W. V. Raman
Masseur-
mentor – Lakshmipathy Balaji
Team Manager-
CAPTAIN-
The Gujarat Lions (often abbreviated as GL) are a temporary franchise cricket team based in the city of Rajkot, Gujarat that will play in the Indian Premier League in 2016 and 2017 seasons. The team will serve as one of the replacements for Chennai Super Kings and Rajasthan Royals, who were both suspended for two seasons due to alleged illegal betting by their respective owners. The franchise is owned by Intex Technologies.
Gujarat Lions is owned by Intex Technologies
During the 2016 IPL players draft, Rajkot franchise picked Indian cricketers Suresh Raina and Ravindra Jadeja, along with Brendon McCullum, James Faulkner and Dwayne Bravo. In an event held in New Delhi, the Rajkot-based team was named as Gujarat Lions and Suresh Raina was announced as their captain.
The team would play five of their home matches at Saurashtra Cricket Association Stadium Rajkot and two of their home matches at Green Park Stadium Kanpur in the Vivo IPL 2016.
Gujarat Lions Ticket Booking Retail Outlets
SURYAKANT HOTEL : LODHAVAD CHOWK, RAJKOT
AAN AUTO : KUWADAVA ROAD, RAJKOT
KARMAYOG ACADEMY : RAM PARK MAIN ROAD OPP ATMIYA COLLEGE KALAWAD ROAD, RAJKOT
JADDU'S : CROSS ROAD BUILDING NEAR JUNA JAKAT NAKA KALAWAD ROAD, RAJKOT
AKSHAR ARTS CENTER : RAIYA ROAD SHOP NO. 17 1ST FLOOR SADGURU THIRATHDHAM COMPLEX, RAJKOT
FASHION CLUB : NEW JAGNATH-22 MAIN ROAD NEAR MAHAKALI MANDIR, RAJKOT
WORLD OF TITAN : GROUND FLOOR, HOLIDAY BUSINESS CIRCLE, NEAR ICICI BANK, KOTECHA CHOWK, KALAWAD ROAD, RAJKOT
WORLD OF TITAN : TRIKON BAUG, GASFORD TALKIES ROAD, OPP. RAJKOT GYMKHANA, RAJKOT
FITNESS 5 : KARUNA NIDHAN, UNIVERSITY MAIN RAOD, KOTECHA CIRCLE, RAJKOT
SURYAKANT FOOD ZONE : NEAR BIG BAZAR, 150 FEET RING ROAD, OPP. RMC WEST ZONE OFFICE, RAJKOT
UMIYA MOBILE : GONDAL ROAD, RAJKOT
POOJARA TELECOM : PUJARA TELECOM, RAJKOT
BIG BITE : RACE COURSE RING ROAD, RAJKOT
TASTEE OVEN TREAT : GEETA APARTMENT, OPP. UNIQUE HOSPITAL, 25 NEW JAGNATH PLOT, NEAR ASTRON CINEMA, RAJKOT
FAVOURITE TOURS & FOREX PVT. LTD : 101-102, TURNING POINT, OPP. D. H. COLLEGE, DR. YAGNIK ROAD, RAJKOT
24 KATHIAWAD : RAJKOT – JAMNAGAR HIGHWAY
POOJARA TELECOM : LIMDA LAN, RANI TOWER, JAMNAGAR
MOBILE WORLD : NEO SQURE, G-50, AMBER CINEMA ROAD, JAMNAGAR
POOJARA TELECOM : SANALA ROAD, HOSPITAL CHOWK, MORVI
SCA BOX OFFICE : SAURASHTRA CRICKET ASSOCIATION STADIUM, RAJKOT
Call it a beginner's luck or just sheer talent, the Lions dominated the last season in the group stage completely, before failing to overcome the hurdles in the playoffs. In the 14 games they played, they were the victors in nine of them, which led them to a first place finish in the league.
Gujarat players 2017 list is placed here
This being the first time that the fans in Gujarat got a team to cheer for, the fans flocked to the stadium just like any passionate supporters. The home venue for the Lions is Saurashtra Cricket Association Stadium in Rajkot. The online ticket price starts at 3000+ Indian Rupees. They also play a two matches at the Green Park Stadium in Kanpur.
The players who made the franchise a huge success are many. In their batting line-up, they will be led by dashing Indian middle order batsman Suresh Raina. Aaron Finch did a terrific job last season in troubling the opposing bowlers, and the presence of Brendon McCullum didn't make it any easier. Dwayne Smith, Ravindra Jadeja, James Faulkner and Dwayne Bravo were also a part of the team, who managed the middle order. In fact, the above players have single-handedly led their side to many wins.
In the bowling department, Dhawal Kulkarni and Praveen Kumar were the highlights, and we can certainly expect them to continue playing in the same vein next year too.
The Gujarat team 2017
The Gujarat team 2017 have made some smart recruitments in the recently concluded IPL player auctions.. They bought England opener Jason Roy at his base price of 1 Crore INR which is good value for a player who has been performing well for England in limited overs cricket and did well on the tour of India. Manpreet Gony and Munaf Patel are two more additions who have plenty of experience in the IPL. Gony played under MS Dhoni's leadership at Chennai while Munaf is a seasoned pro who has played plenty of matches for India in the past.
In the playoffs, Gujarat Lions had two chances to reach the final, but they lost on both the occasions, one to Royal Challengers Bangalore and the other against Sunrisers Hyderabad. Nonetheless, we can certainly expect them to bounce back and avenge their losses next year.
Gujarat Lions
Gujarat Lions look set for another exciting season in the IPL after making some key additions to their squad. Tickets for the home games of the Rajkot team will be made available on both online platform and offline retail outlets. Available tickets will also be sold at the stadium counters on match days where fans can grab a seat if they are unable to book their tickets beforehand. IPL Gujarat Lions match tickets information is placed above.
Gujarat Lions 2017
| Gujarat Lions IPL Schedule 2017 | Date | Time |
| --- | --- | --- |
| Gujarat Lions vs Kolkata Knight Riders | 7/04/2017 | 20:00 |
| Gujarat Lions vs Rising Pune Supergiants | 14/04/2017 | 20:00 |
| Gujarat Lions vs Royal Challengers Bangalore | 18/04/2017 | 20:00 |
| Gujarat Lions vs Kings XI Punjab | 23/04/2017 | 16:00 |
| Gujarat Lions vs Mumbai Indians | 29/04/2017 | 20:00 |
| Gujarat Lions vs Delhi Daredevils | 10/05/2017 | 20:00 |
| Gujarat Lions vs Sunrisers Hyderabad | 13/05/2017 | 16:00 |